Melbourne design week is an annual showcase of the best collectible contemporary design in Australia. It is the event for Australia's leading designers to exhibit their work. Within the many exhibits Friends and Associates curated a collection of works around the narrative self-portrait – inviting 22 leading creatives to 'tell us who they are in this moment' representing themselves in a single project. Jon Goulder and Henry Williams chose Cusp CLT to design a minimalist table to showcase a collection of ceramics and tableware – "a grown-up response to a world where there is too much design".
"There was a real excitement around this exhibition," says Goulder. "I teamed up with Henry Williams, who is a good friend and an incredibly talented multi-disciplinary designer who I've wanted to work with for a long time, but this was our first chance to collaborate."
Williams and Goulder met while both working for Snohetta Australasia. Henry was Senior Architect and Jon Senior Designer/Maker. Goulder says Henry's considered and careful approach complements his more reckless free-form style creating a great design combination.
We knew that most of the other designers would take the opportunity to do something crazy and flamboyant at Melbourne design week, as designers do. I'm kind of a little bit past that I think.

Jon Goulder
"There's too much design. It's overly saturated through social media. Everyone's just basically designing Instagram moments. That's how we see the world of design. So, our self-portrait was almost anti-that. We wanted to be the grownups in the room."
"So, we decided we'd do something completely different and design the most calm and grownup response in amongst all this noise. The design needed to be minimalist, almost utilitarian, a necessity."
Goulder and Williams thought about the activities that are necessities for daily human life and settled on eating and food as a theme. They designed a collection of ceramics and tableware, which led to a need to create a platform for that to sit on, which gave birth to the Cusp table.
The Cusp Table
The designers wanted a material that isn't traditionally used for fine furniture. They explored building products and settled on CLT (Cross laminated timber) – and ultimately Cusp.
"We wanted to interrogate the use of timber and ask the question – what is a good use of timber, a sustainable use of timber?"
Goulder explains that sustainability in design is about longevity.
"The body of work that we developed talks about maturity in design. It talks a lot about proportion and considered design that has longevity as opposed to throw-away Instagram-style moments."
Sustainability is also about careful consideration of materials, and according to Goulder, it is the responsibility of every designer now and certainly moving forward to source sustainable materials.
New generations are really going to take on the responsibility of climate change and that will change the market dramatically. So, products like what cusp will truly be valuable in the future.
"As designers, we must have a considered response to the environment and to sustainability. That's our job."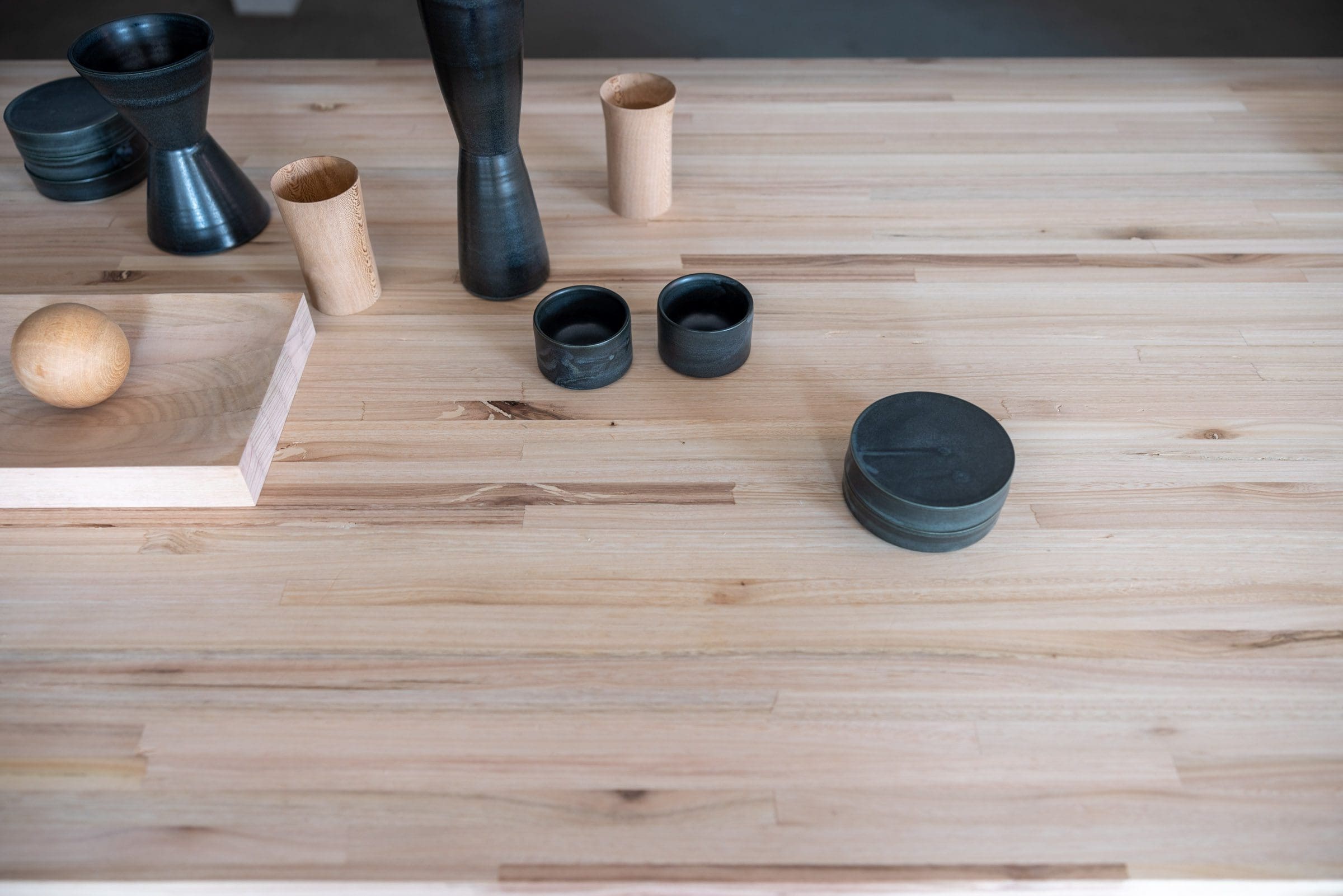 Cusp CLT, which is made from plantation-grown Eucalyptus Nitens is easily the most sustainable timber product on the market. It's a no-brainer.

Jon Goulder
"It's beautiful, and it's a natural material that talks about nature. More and more people want to bring natural beauty into their houses and into their work environment."
"It's also good to work with. It's very straight and with the structure being cross-laminated it's incredibly stable. You can do anything with it. We're excited to explore what the possibilities are with this material."
Jon made the table in just three hours from start to finish from receiving timber. The timber turned up in its pre-cut sizes, so he just had to put it together.
"It was a simple process," he says. "Because it's logical, we used the material for its strength. The fact that we can span huge lengths with CLT. That's what it's made for. So we just used the material for its inherent qualities."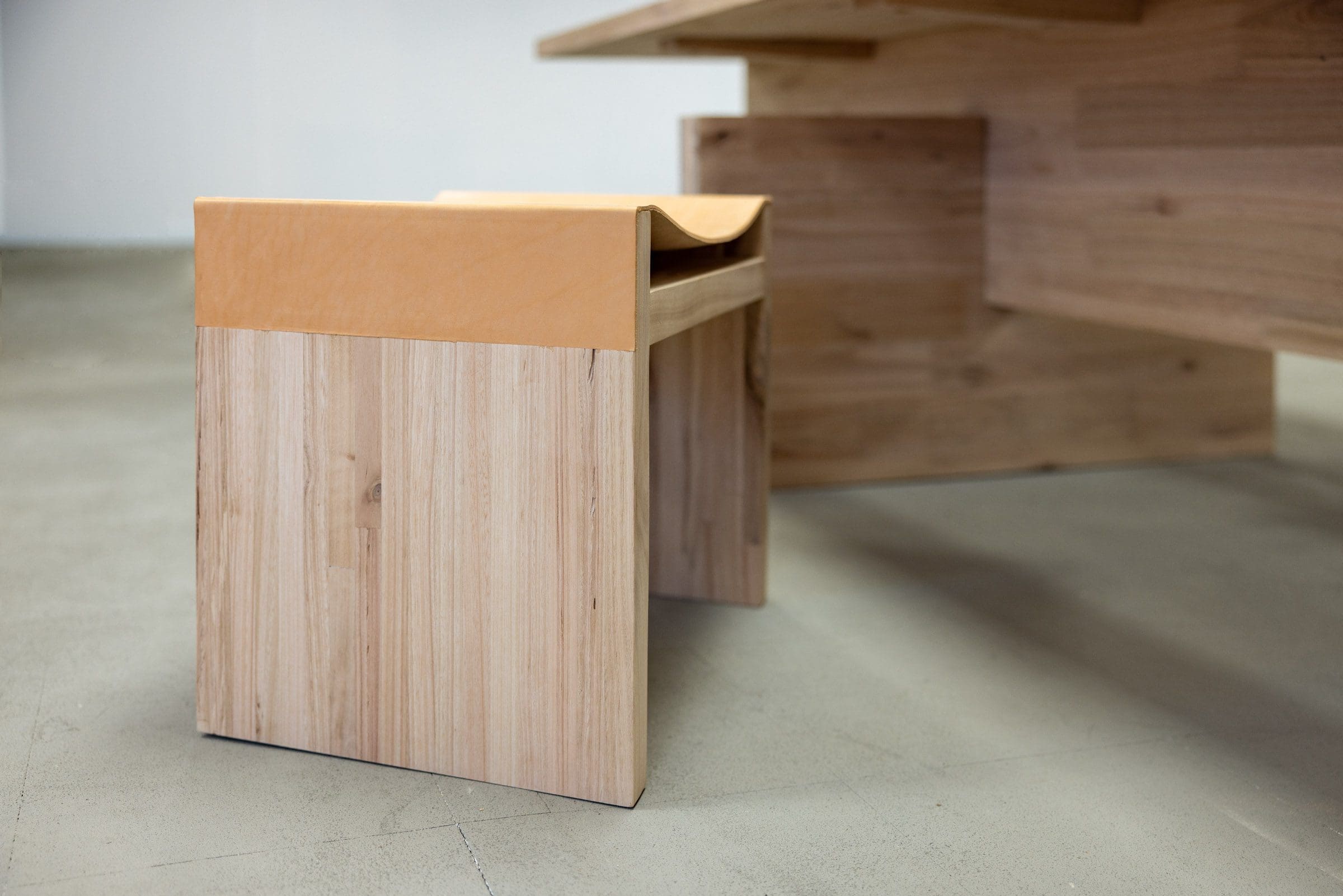 The acclaim
The Cusp table was received incredibly well, collecting great reviews from some of the top designers in Australia.
It sat well in the room amongst a lot of amazing design, but it had a presence, and it was just completely different to anything in the space. The potential of a product like this is huge.

Jon Goulder
"I love the proportion," says Goulder. "It's all proportion. And that's Henry. It just sings. The first time we put [the table] together and stood back we thought, that's it. Henry brings quite a deft understanding of space and proportion."
Goulder says the response to the table has been overwhelming.
"People want to know where they can buy it, but at this stage, it's a one-off. After this experience though, we're interested in developing other products with Cusp."
Now that he has worked with Cusp CLT Goulder says there are far more applications for this material in the design space.