When Developer Parklea engaged i2C Architects to design their new corporate headquarters in Melbourne's southeast, they specified that they wanted it to be as sustainable and close to carbon-neutral as possible. i2C Architects looked to cross-laminated (CLT) and glue-laminated timber (GLT), supplied by Cusp Building Solutions, to achieve the objectives. In addition to the environmental benefits, choosing CLT and GLT also saved time and money.
Timbertop Estate is home to 700 residences. The Timbertop hub is an innovative commercial and retail space that will service the estate. On the top floor, it will house Parklea's own corporate headquarters. It is here that Parklea requested the use of CLT and GLT due to its sense of warmth and environmentally friendly qualities.
Designing with CLT and GLT was new to i2C so they reached out to Dayne Davis from Timber Design Studio, and his team of timber engineering experts, to work in collaboration.
"i2C reached out to us [Timber Design Studio] at the commencement of the project on day one, hour one, which is the perfect way to approach designing with mass timber because it allows us to optimise the structure," says Davis.
Davis explained that the rules of timber physics are a bit different to working with steel and concrete.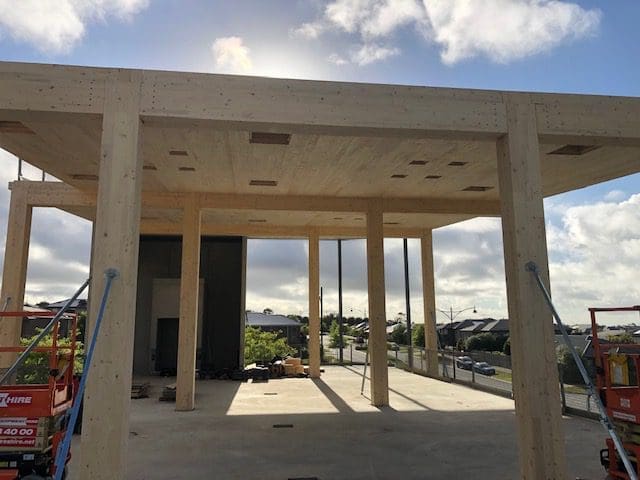 The architects hadn't designed with mass timber before, so working collaboratively allowed us to make sure we were delivering exactly what the client wanted in terms of price and vision. We could optimise both the architecture, the fabrication and the cost.

Dayne Davis, Timber Design Studio
The costs savings from using timber are significant. The structure is fully exposed internally, which saves budget on paint, gyprock and other internal fit-out costs and importantly cost is saved due to the speed of construction on site.
Cusp Building Solutions were successful in winning the tender, up against the three biggest CLT manufacturers in Europe. Davis said the client was thrilled to be able to support local.
Two levels, two methodologies – here's what Becon learned.
Building with mass timber was also new to the building contractor Becon Constructions.
Becon constructed the lower level of the project in traditional methods, that they were more familiar with, using concrete and steel. The upper level was created with mass timber providing a direct comparison. According to Jason McCoy, Project Manager for Becon Constructions, the time difference was significant.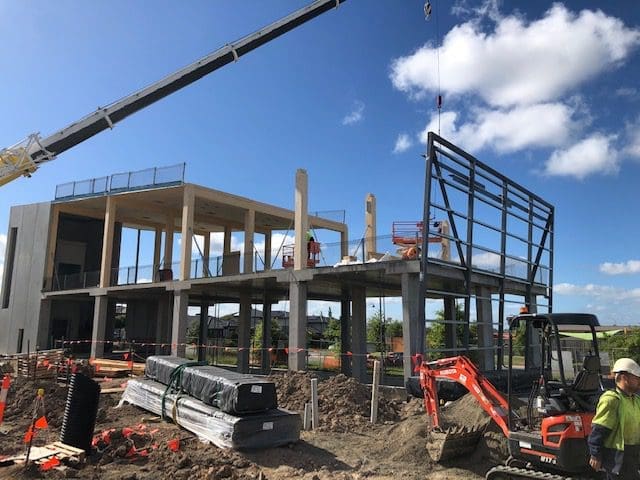 I was surprised by the speed of construction. The speed in which the team at CLOS installed our structure was astonishing. They managed to install in around a week, an accomplishment made possible by the meticulous fabrication process conducted by the team at CUSP.

Jason McCoy, Becon Constructions Project Manager
A sentiment echoed by Davis who said "from an engineering and aesthetic perspective, the product produced by Cusp, both CLT and GLT, was world-class. The attention to detail was immaculate."
"Not only were we surprised by the construction tolerances that Cusp was able to manufacture to, but we were also impressed by the speed in which the structure came together," says McCoy.
"Compared to traditional structural methods such as concrete and steel which require onsite prep work, the CLT/Glulam arrived on-site in final form meaning once it was installed it required minimal temporary support to be structurally sound.
"The time implications for our team were significant. Using the ability to sequence the materials for delivery offsite, the team at CLOS ensured that once materials landed on site they were handled and installed as efficiently as possible.
"This also sped up our ability to commence the fit-out related portion of the project without the need for curing processes or removal of significant temporary structures such as formwork or backpropping. This saved our client a significant preliminary cost."
Becon were unfamiliar with the mass timber at the commencement of the project, but McCoy says they would certainly be interested in building with mass timber in the future.
"Despite being unfamiliar with the product, we were supported by an industry-leading consultant, timber supplier and installation contractor who were able to assist us."
McCoy says other builders shouldn't be put off by the challenge of building with a new structural member such as mass timber rather than more traditional methods like concrete, pre-cast and structural steel.
"There is something aesthetically satisfying about timber, supported by the number of people stopping to take photos! We thoroughly enjoyed working with mass timber and feel a sense of pride seeing the completed product," he says.